i rarely have enough to say about a book to write a full review on it. but mini reviews? i can do those. here are my thoughts on the books i've read this month.
« inspired by vivian »
the scar boys by len vlahos — 2/5 stars
this book is about a rejected teen, punk rock music, and forming a band with friends, so i thought i would like it. i enjoyed the first few chapters, which focused on the mc, harry jones, being caught in a horrible accident, and how it effected him emotionally and physically. but i began to lose interest once harry and his best friend put together their band, the scar boys. i just found it a little slow and predictable. however, i did love how passionate harry was about music, and how the author was able to put into words how it can make you feel: "music i discovered that night, was a sanctuary, a safe place to hide, a place where scars didn't matter, they didn't exist." 
stargirl by jerry spinelli — 3/5 stars
unconventional homeschool girl shows up at high school and everyone thinks she's a freak. now that's relatable (public school sucks, please help me).
i loved stargirl as a character. she plays ukulele (!!), does kind things for strangers, enjoys wandering. i thought she was going to be revealed as some kind of alien princess or something. i was happy to be reading about a homeschooler, but the author made her a walking stereotype: odd clothes, socially inept, that kind of thing. she was clueless, basically. i think the author only made her a homeschooler to emphasize how weird and different she is.
a few complaints: i knew virtually nothing about the main character, leo, and the ending was unsatisfying. but i did love stargirl and the sometimes dreamy writing style.
"events become feelings, feelings become events. head and heart are contrary historians."
simon vs the homo sapiens agenda by becky albertalli — 4/5
i finished this book in half a day. maybe it was because the internet wasn't working and i had nothing to do with myself. maybe it was because it's just a really freaking good book. to put the plot simply, simon has an internet friendship with someone named blue (yay, internet friends!). blue goes to simon's school, but they write with pen names and won't say who they really are, in case meeting in person ruins the friendship.
i loved simon. he's funny, has an adorable personality, and is a theatre kid (!!), but he also overthinks and gets in trouble. i had a hard time liking his group of friends, though. there was too much teenage drama going on.
i had absolutely no clue who blue really was until he was revealed at the end of the story. i was afraid it was going to be a problematic character, but he ended up being the best possible person.
simon made a few really dumb choices throughout the book, which made me want to slap him, and there was one place where blue makes a comment about  "people who are straight and white never having to have identity issues," which isn't true and is kind of rude. but besides that, i loved it.
"i try not to change, but i keep changing, in all these tiny ways . . . and every freaking time, i have to reintroduce myself to the universe all over again."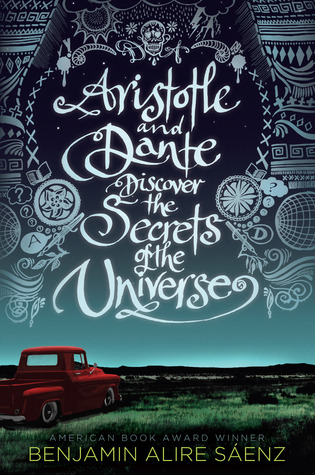 aristotle and dante discover the secrets of the universe by benjamin alire sáenz — 4/5 stars
this is the kind of book that you need to sit and think about for a long time before you figure out what it means to you.
first of all, i loved the characters. aristotle and dante's friendship seemed quite realistic to me, and i got nervous whenever anything happened between them, because i wanted them to be friends for the rest of their lives. dante is such a sweet character. his love of birds, war against shoes, and compassionate personality made him so endearing to me. i liked ari, too. he was angry and confused and started making some bad choices as the story progressed, which made me concerned for this fictional character's wellbeing. i feel like a worried mother.
there wasn't much of a plot. there are a few major events in the story, but it's mostly just exploring ari's thoughts. i adore the writing style of this book. it's dreamy and poetic and felt like my internal monologue in many places.
"i wondered what that was like, to hold someone's hand. i bet you could sometimes find all of the mysteries of the universe in someone's hand."
it's kind of a funny story by ned vizzini — 2 ½/5 stars
i can't believe i gave something a half star. i feel so pretentious. 
i didn't particularly like any of the characters. most of them were rude and made horrible decisions and made a few transphobic comments. the characters craig encounters in the psych ward generally had interesting backstories, but that didn't really make up for it. i felt like the mental illness rep was pretty good for most of them, especially craig and muqtada.
i'm still pretty ticked about the transphobia, and i can't figure out if it's the author's opinion or just the characters'. but i did like how the book sort of offered a plan for how to get help if you feel like committing suicide.
"so why am i depressed? that's the million-dollar question, baby, the tootsie roll question; not even the owl knows the answer to that one."
playlist for the dead by michelle falkoff — 3/5 stars
i was considering giving up on this book about fifty pages in, but i had bought it, so i figured i should power through it so i wouldn't be wasting my ten dollars. that being said, it wasn't a horrible book, just a little slow in the beginning.
my problems with the book: there are some slightly misogynistic comments, sam thought that suicide is selfish and for attention, the playlist wasn't as important as i thought it would be, and i pictured astrid as that one scene girl (this one, you know who i'm talking about) and it kind of ruined her character for me.
things i liked: it was from the perspective of someone who had lost their best friend to suicide, which is a pov i haven't read much of. it talked a lot about music, and yes, that made me happy. it mentioned gerard way's comics and adam's song // blink-182, and i freaked out a bit, i'll admit it.
"people are going to say a lot of things. and some of it will be helpful, and some of it will be annoying, and lots of it will get on your nerves. but they're saying it because they found it helpful when they lost someone. they mean well."
---
i know some of you read 15+ books a month, but this is all that i could manage this time. although it's probably worth noting that i read three of them in one day.
hope you enjoyed this. i might make it a regular thing. who knows.
xo loren