hey. :)
i read nine books last month, i'm kind of proud of that. i'm going to try and make the reviews shorter this time because of how many there are.
this is where it ends by marieke nijkamp — 2/5 stars
i thought it was really boring. i didn't care about any of the characters and the shooter wasn't nearly complex enough to be a mass murderer. i finished it quickly because, although i didn't think it was a very interesting story, i wanted to know who made it out of the school alive.
it has some really great reviews on goodreads, so maybe this is just a me thing?
tiger lily by jodi lynn anderson — 4.5/5 stars
i am in love with this book and you all need to read it right now. it's definitely one of my favorites. the characters were fascinating, i felt all of their emotions and ended up crying at the end. there are so many incredible quotes in this book that i want to slap all over my room.
i would have given it five stars, but the very beginning was a little slow, in my opinion.
this book broke my heart. i recommend it 100%.
goodbye stranger by rebecca stead — 3/5 stars
 rebecca stead is one of my favorite authors. all of her books are phenomenal and a little weird. i fully expected to like this one, and i did. but it's not that different from all the other middle school dramas i've read, except that it has a more serious theme.
  there's a feminist character in it, which is great, right? except it wasn't a very flattering depiction, kind of like le fou representing gay people in the live-action beauty and the beast.
 some of the chapters were told from the pov of a mystery character, in second person. i don't really get why those chapters were in there, because they didn't add anything to the plot. but it was a cute story about friendship and growing up and i can now say that i have read all of rebecca stead's books.
girls like us by gail giles — 2.5/5 stars
it talked about what it's like to be special ed and (SPOILER) a rape victim (END SPOILER). i haven't read many books with characters like that. it was a quick read and i liked the diversity.
my issues with this book: 1) engaging plot? i don't know her 2) quincy is awful and rude 3) i kept forgetting whose pov i was reading, because they have the exact same voice.
wonder by r.j. palacio — 3/5 stars
it was a wonderful (ha) book, the writing flowed easily, the characters sounded their age, etc. but it was just another middle school story with drama and an underdog mc. in my opinion, anyway. i know a lot of people love wonder, so it's probably just me and not the book.
the overall theme of this is "be kind!!" and while that's great, it's sort of simple. i was expecting something more meaningful and emotional, idk. and it bothered me that even though it's about kindness, most of the characters weren't kind to august — they just pitied him.
fangirl by rainbow rowell — 2.5/5 stars
i've heard great things about rainbow rowell, so i'm a bit sad that this book didn't click for me. it's about a fanfiction writer with social anxiety, and it could have been a relatable book about being in a fandom, but it was actually really boring??
it's a character driven story, and that's fine, but i thought they were all sort of awful people. real, but awful. (wren and laura are disgusting humans, and cath and levi are just so normal. sorry.) i like reading because i get to hear about dragons and love and wars, not so i can drag myself through 450 pages of unnecessary family drama and not wanting to do your schoolwork.
 i didn't like most of the book, but i enjoyed reading bits of cath's simon snow fanfics (clearly based on harry potter). rowell has a book about simon and baz (carry on), and i want to read that. maybe a fantasy story will redeem this author for me.
 the empty grave by jonathan stroud — 5/5 stars
 this is the last book in the series. i don't really know how to feel. of course it was amazing, but i'm sad now and the ending wasn't really satisfying. it's the kind of ending that makes you immediately want to look up fanfiction, because how could the story end there? (and this is coming from someone who has never purposely read fanfics before.)
 i was so emotionally invested in these characters that i had to stop reading every few minutes and gasp, because what if this character dies, and did he just say what i think he said? i spent the entire time worrying about the cast, because i was pretty sure that someone wasn't going to make it.
 the strings weren't all tied up by the end of the book, so i'm going to spend the rest of my life wondering about the skull and what happens to my ships. which is where the fanfiction comes in.
 if you haven't read the lockwood & co. series, you should get working on it. they're witty and creepy and the characters work so well together. plus, it's one of my favorite series.
coraline by neil gaiman — 3.5/5 stars

 this one is creepy and perfect for reading around halloween. it definitely would have been better if i hadn't watched the movie first, but it was still worth reading.
 the characters are all pretty great, they've got a lot of quirks and unique voices. but i felt like i didn't know anything about them. and i guess it makes sense for this book, because it's plot driven and the characters' personalities aren't super important, but still.
i loved coraline and the cat because they're both sarcastic and sassy, and their banter was pretty amusing.
 this is one of those books that i think everyone should read. even though it's not my favorite book in the world, it's a classic.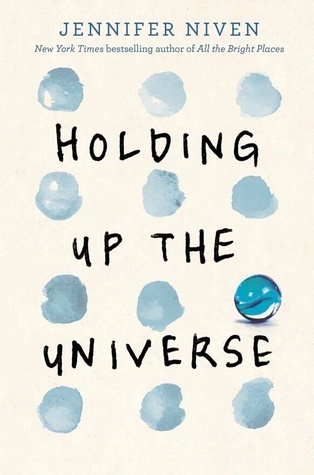 holding up the universe by jennifer niven – 2.5/5 stars

 jennifer niven wrote one of my favorite books (all the bright places), and she's an incredible writer, so i picked up this one, certain that i would love it. but i sort of can't stand it??
 there were lots of good things about this book, like its message of self-love and how libby, former "america's fattest teen," knows that she doesn't have to lose weight to be accepted. i also enjoyed reading about
prosopagnosia, which i had never heard of before. and i thought the anxiety and eating disorder rep was pretty good.
 but the bad things outweighed the good ones. the characters were freaking annoying. i rolled my eyes at practically everything they did, even if it was normal, just because jack and libby and everyone else bothered me so much. i found a lot of it to be insanely unrealistic, like the bikini scene and the party and the entire romance. and the title had nothing to do with the story, and that always frustrates me to no end. also, jack thinks his younger brother is gay because he carried a purse for awhile. not a stereotype at all.
  it had the potential to be a really great story, but it fell short for me.
---
a lot of my reviews were quite negative, idk what that's about. sure, it's possible that all the crappy books in the library found their way into my hands, but i think my mood might have affected some of them, too. so take them with a grain of salt, ok?
xo
loren